Zo ziet Bliss eruit nu uit. De kreinik is opgegaan in Zweden en ik kan mijn andere rolletje nergens vinden. Heb o-ve-ral gezocht. Snap er niks van!
This is how Bliss looks now. I ran out of Kreinik in Sweden and I can't find my spare one. Searched eve-ry-where. Can't stand it!
(clickable)
En ach, ik kon het niet laten. Ben nog maar een nieuwe gestart. hihi Echt erg. Ik ben nu wel met heel veel dingen tegelijk bezig. Niks voor mij eigenlijk, ik maak de dingen die ik begin ook graag af. Maar ja. Er zijn zó veel leuke dingen te doen! Ik kan gewoon niet wachten tot ik iets af heb!
I just couldn't resist, I started another one. hihi I'm bad. I really have a lot of projects going on right now. That is not really like me, I like to finish what I 've started. But what can I say, there are
so
many great things to do! I just can't wait untill I've finished something!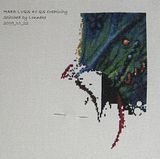 (clickable)
HAED QS Creativity by Lisa Victoria, 25 cnt lugana, 1 over 1 full cross.
This should be the end result:
Moet nog wel even vermelden dat de kwaliteit van mijn foto's behoorlijk te wensen over laat. In het echt zijn ze veel mooier!
Have to add that the quality of my pictures is not so good. IRL they are much prettier!